''
Come and discover our selection of heritage favorites from the Serre-Ponçon destination
♡ CATHEDRAL NOTRE DAME DUREAL
Embrun | Serre-Ponçon
Built between 1170 and 1220, and one of the most important religious monuments of the French Alps. Pay particular attention to the pyramid shaped bell tower, the great pipe organ (donated by Louis the 16th), and the treasure of Saint Anne's chapel.
♡ ACHEOLOGICAL SITE : le clapier des Monges
Baratier | Serre-Ponçon
Thanks to archaeological excavations in the 2000s, the remains of a Gallo-Roman Villa were discovered (an area of about 200 square meters), probably from 400 years before Christ! This place is unique in the Southern Alps.
♡ ABBEY OF THE BOSCODON
Crots | Serre-Ponçon
High place of the cultural heritage of Serre-Ponçon, located in an idyllic setting in the middle of the Boscodon Forest at 1150m altitude, classified as an exceptional forest. Boscodon Abbey is a 12th century Romanesque building. In the Middle Ages, it was the largest abbey in the region and the main house of the Monastic Order of Chalais. After 40 years of work, carried out by the Association des Amis de l'Abbaye de Boscodon, the abbey is back to its original quadrangular plan! Visits throughout the year, a museographic space, a rich and varied cultural program, will make you discover a remarkable building with a history of more than 1000 years. Come and live a surprising experience in the heart of the Abbey.
Contact : www.abbayedeboscodon.eu | Virtual Visit
♡ MEATWARE MUSEUM
Crots | Serre-Ponçon
Enjoy being dragged through the story of the butchers who left for Marseille a century ago, and how their expertise has influenced the Mediterranean city. Have fun !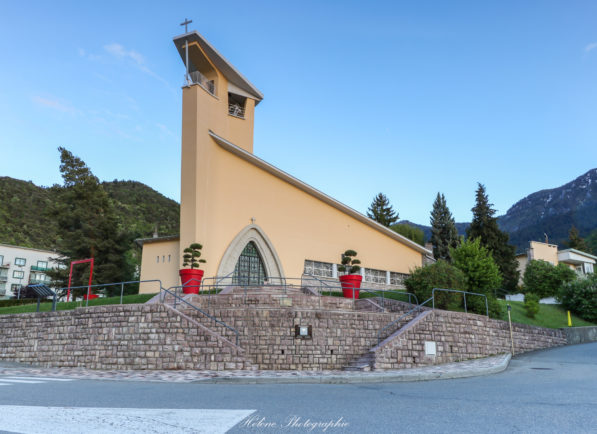 ♡ ST-FLORENT CHURCH
Savines-le-Lac | Serre-Ponçon
This church was rebuilt in 1961, with a small wink to the lake: in its triangular shape you can clearly recognize the bow of a boat. The architect at the origin of the lines, the materials and the colorful stained-glass windows is Achille de Panaskhet.
♡ CULTURAL CENTER OF THE 20th CENTURY (CIAP)
Savines-le-Lac | Serre-Ponçon
In the Interpretation Center you will find all information about the heritage from the twentieth century of Serre Poncon. Discover the modern architecture that characterizes this area, in particular with the establishment of ski resorts, the construction of the dam and the reconstruction of Savines-le- Lac. Unpublished documents prove the involvement of great architects such as Achille de Panaskhet, Jean Prouvé and Le Corbusier…
♡ CHURCH St-Victor
Chorges | Serre-Ponçon
Built during the 12th century by the monks of St-Victor, and since 1862 a National Historical Monument. She welcomed the first departmental assembly from 4 till 15 July 1790, to form the department of the Hautes-Alpes.
♡ FORTRESS OF REALLON
Réallon | Serre-Ponçon
After a short walk of about half an hour you reach an unsuspected plateau, from where the fortress from the 12th century ruled over the valley. The view goes from the top of the Barle to the lake Serre Poncon.
♡ Picturesque village
Puy Sanières, Puy St Eusèbe, St Sauveur | Serre-Ponçon
All our villages are full of picturesque churches and other heritage treasures , like the village of Puy Sanières and its bread oven where the baker still makes the old-fashioned bread, Puy St-Eusebe and the stained-glass windows of its church made by its inhabitants and also St Sauveur and his remarkable murals in the church …